ECE-RJ is a non-profit membership organization that provides valuable resources to directors, teachers, and stakeholders of early education programs with a connection to a Jewish organization.  
ECE-RJ is more than a membership organization. ECE-RJ is a community of supportive, passionate, and caring individuals with common interests and goals. All members receive exclusive access to information, support, and resources: 
Mission
Early Childhood Educators of Reform Judaism (ECE-RJ) is committed to serving early childhood educators and leaders in congregational settings. We believe in elevating the professional self of our members through education, networking, and collaboration. We believe that the work of ECE-RJ increases the status and visibility of our profession and our schools within Jewish communal life, ensuring the continuity of thriving, high-quality Jewish Early Childhood programs. 
Membership
Members come from across North America and have a deep and abiding interest in the growth and development of children from birth to eight-years-old. Members include those who lead, teach, or support early childhood programs. All educators are welcome, Jewish or not. We seek to perform the mitzvot of Ahavat Ger (loving the stranger) and Keruv (drawing near all who are far).
Structure
Rooted in the Reform Judaism movement, ECE-RJ  is an affiliate organization of the Union for Reform Judaism, with its own staff, leaders and dues structure. 
---
History of ECE-RJ


Under the leadership of President Rabbi Eric Yoffie and Vice President Rabbi Dan Friedlander, the Union for Reform Judaism's (URJ) Department of Lifelong Learning invited early childhood directors at member congregations to a meeting in New York City.  This historic meeting, which took place in 2000 and was led by Rabbi Jan Katzew, covered a variety of important topics regarding the role of early childhood Jewish education in the Reform movement.  Current ECE-RJ members Cathy Rolland, Norma Cahan, Tammy Vener, Sari Luck Schneider, Jill Cimafonte and Heidi Baker participated.
First Conference Held In New York City
This first conference, hosted by the URJ, took place in New York City in 2001. It was immediately experienced as a missing piece to a greater puzzle within Reform Judaism. The following year brought about a second successful gathering, setting a new tradition.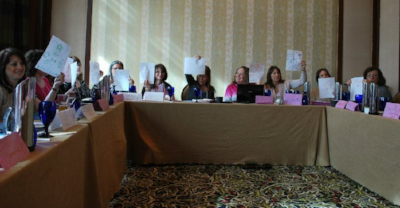 It became clear that there was a need for support and services beyond a once-a-year professional convening. At the 2003 conference, work to address this need began to officially evolve. An executive committee was formed, committees established, and a name selected.  Cathy Rolland was elected the organization's first president. Early Childhood Educators of Reform Judaism (ECE-RJ) was born. Well, almost. As an affiliate organization of the URJ, ECE-RJ needed the approval of the parent organization's North American Board. 
ECE-RJ Approved by the URJ Board
In June 2004 the URJ Board approved the new organization. 
Rolland was elected president. Elaine Gaidemak was hired as Executive Administrator. Over the next decade she developed organizational procedures, oversaw the development of a listserv, helped grow the membership and worked on conferences. A website was developed, membership and organizational processes and procedures established, and a listserv set up.
Over the next decade, the organization continued to work to meet the needs of members. Eventually, four of the founding members went on to join Rolland in serving terms as the organization's president: Norma Cahen, Tammy Vener, Sari Luck Schneider, and Heidi Baker.
Organization Continues to Grow
ECE-RJ continued to evolve, growing in size, depth, sophistication, and influence within congregations.  By 2015, the organization was ready to take the next step in its growth and development.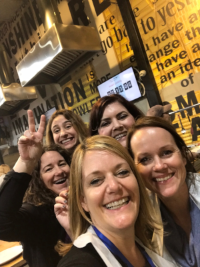 In October 2015, Executive Director, Tricia Ginis was hired to meet the needs of the growing organization. Soon after, ECE-RJ began providing members with more value-added benefits including new consultative services to URJ congregations; online training; and a catalog of information to help directors, teachers and congregations, develop and manage their early childhood education programs. Elaine Gaidemak, Executive Administrator retired in March 2016.
In 2017 the organization took on a formal brand strategy and messaging initiative to better position itself and to become more attractive to potential new members. In 2018 an updated and improved website was launched, and the member newsletter went through an overhaul that included a new name, and editorial structure. 
Today the ECE-RJ continues to grow and thrive. Membership continues to hit new highs every year. While we look back at the past with nostalgia, our focus continues to be on the future and the impact early education has on our families and congregational communities.