ECE-RJ is a network of dedicated, supportive, and passionate professionals who understand the unique challenges and rewards of working in Jewish early childhood education.
---
As a member, you will get to enjoy many benefits including:
E-Newsletter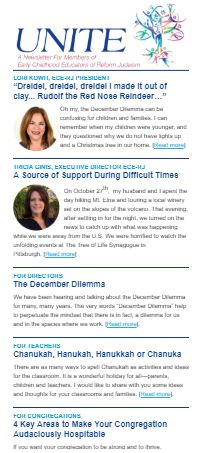 Each month members receive UNITE, an easy and quick-to-read newsletter that provides practical information. Each edition contains three articles, each one written for a specific audience: teachers, directors, and supporters of ECE programs.  It also contains information on member opportunities and events.
Retirement Plan and Benefits 
Preparing for retirement is crucial to your financial well-being. That's why ECE-RJ provides a retirement plan and other benefits through RPB, the Reform Movement's retirement plan provider for more than 75 years. 
RPB offers a 403(b) retirement plan, a deferred compensation plan for additional retirement savings, retirement contribution insurance, as well as long-term disability insurance and life insurance to protect your family's financial stability.  And, if you change employers within the movement, your RPB account stays with you, providing you with a lifelong retirement plan.
Any ECE-RJ member who works 18+ hours per week at a URJ affiliated organization is eligible to participate in RPB's retirement plan. Start planning for your future today! Enroll or learn more at rpb.org or call RPB at (212) 681-1818 x228. Be sure to indicate ECE-RJ as your primary affiliation when you enroll.
Private Director/Assistant Director and Teacher Forums
ECE-RJ offers a private forum for Directors/Assistant Directors and a separate private forum for Teachers. The Forums provide members an opportunity to network with other professionals as they ask questions, share knowledge, gather information and resources, and support one another. All Director/Assistant Director and Teacher members of ECE-RJ are automatically enrolled in their respective forum based on membership status, and can immediately begin conversations with colleagues throughout North America.

Meet Up Calls
Monthly Meet Ups are conference calls hosted by ECE-RJ with designated topics of interest to our members and led by experts in the field of early childhood education. Each session is one hour in length. Calls include rich discussions about the topic at hand. All you have to do is dial in!
Professional Development
ECE-RJ plans and hosts an annual learning opportunity for educators. Opportunities for meaningful professional networking, mentoring and personal growth are complemented by trips to local venues along with many opportunities for fun and free time, all of which are built into the learning experience. 
Database of Resources
A growing searchable database of articles on a wide range of topics is available to members.  Information from ways to strengthen the relationship between a congregation and its early childhood program to tips on incorporating nature into the early childhood classroom is easily accessible. 
National Conference/Kallah/Trips to Israel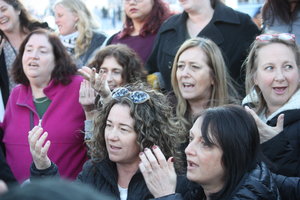 Held in odd-numbered years in designated cities with multiple URJ synogogue-based early childhood centers, conferences provide opportunities for local and North American educators of all affiliations to come together to study and collaborate.  Held in even-numbered years, a Kallah is a more intimate learning experience hosted in an exciting venue.  Attendees explore the Kallah theme on a deep and meaningful level in this supportive setting. Guest speakers facilitate additional exploration of the Kallah theme as well as opportunities for meaningful application.
ECE-RJ Facebook Page, Instagram, & Twitter
All members of ECE-RJ are invited to visit and 'like' the Early Childhood Educators of Reform Judaism Facebook page, Instagram and Twitter accounts. This is a platform where we share current information, articles, and information related to early childhood engagement.  
Reduced ARJE Membership Rate
Early Childhood Directors who are full dues-paying members of ECE-RJ and whose primary job responsibility is early childhood and family engagement may join The Association of Reform Jewish Educators (ARJE) at a reduced rate. Visit ARJE for more membership information.
Postings of National Job Opportunities
As a service to our members and their supporting congregations, ECE-RJ is proud to share job openings in Early Childhood Centers supported by a Reform Congregation. Postings and pertinent information related to the position are made available via our email Discussion List as well as in ECE-RJ's job board. 
National Referrals for Relocating Staff and Families
ECE-RJ helps your staff and families who are relocating. It is a tremendous benefit to have highly-qualified staff members as well as engaged families within our network of programs. Through ECE-RJ, you can help your staff members who are moving find a new position and you can assist families find exceptional early childhood programs in their new city or town. Relocation announcements are made via email.
The Tent
Members also have access to The Tent, a URJ communications tool.