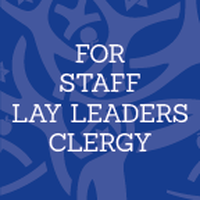 URJ Pilot Project Designed to Help ECE
Programs and Congregations Work Together
As the URJ continues to engage with our congregations to reimagine Jewish life, we are delighted to announce our latest Strengthening Congregations pilot Project Excellence for Early Childhood Congregational Education—PEECE.
This exciting initiative is a direct outgrowth of our unique partnership and logical next step of our shared vision of excellence.
I've seen models of early childhood education excellence in many of your congregations. I know how much early engagement matters to the families who are with us every day. I also know how magical this work is for the congregations and communities who embrace their early childhood centers.
PEECE will offer a customized roadmap to assist early childhood centers and their congregations to meld their missions and co-construct their visions.
Indeed, your programs are the core of your congregations and our URJ! You lead by example. I've seen the energy that radiates from an early childhood program to the broader congregation, as a Jewish community becomes invigorated through this essential portal of engagement. That's why we want to spread your best learning to others and make your excellence contagious!
PEECCE offers a congregation with an ECEC a unique opportunity to focus on a self-reflective process of exploring exemplary practices in engaging families with young children. It provides a framework for each congregational community to create strategies and action plans, ensuring opportunities for growth and deeper relationship building among congregants.
Eleven congregations have been accepted into the pilot that launches in June 2019 and will be completed in June 2020. Each congregation will begin by creating a leadership team comprised of lay leaders and professionals, reflecting the population and organizational structure of the congregation, present and future. Once the leadership team is established, it will be paired with a URJ trained coach to begin the process. The coach will help to guide the team in moving through the PEECCE standards, documenting its findings, and determining growth-focused opportunities. After completion of the pilot, congregations will be invited to apply to participate in the first cohort which will launch after the 2019 Biennial.
The reality is that in so many instances, the future of congregational life begins with the children, families and educators in the early childhood center. You know that. You've shown it.
I look forward to your comments as we move forward and thank you from the bottom of my heart for your partnership.
Rabbi Rick Jacobs
President, Union for Reform Judaism
New York, NY
---