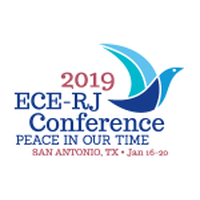 The 2019 ECE-RJ Conference Had It All
With the sun setting and the pleasant south-Texas air turning chilly, attendees of the 19th ECE-RJ national conference huddled together for warmth, both physically and spiritual, in front of San Antonio's most sacred and iconic landmark, The Alamo.
Together, with one voice, they began to sing Debbie Friedman's iconic melody for the Havdalah Prayer.
As they did, tourists—who had come to visit a place where more than 800 individuals were killed or wounded (Texans and Mexicans)—stopped, watched and listened as the group of early childhood educators and their supporters marked the end of Shabbat, and a Conference with the theme, Peace in our Time.
"All I could feel was love," said Dale S. Cooperman, Director of Early Childhood Education at Albuquerque's Congregation Albert. "Love for my fellow attendees and love for the organization (ECE-RJ) that brought us all together."
Cooperman was one of more than 100 teachers, directors, lay-leaders, congregational staff and religious leaders from 20 different states who attended this year's conference.
Susan Anderson of Gan Shalom Preschool in Bloomington, Ind. said that she has always seen herself with three different lives: teacher, musician, and creator of Story Church (a non-denominational program that incorporates music and story-telling). At this year's Conference, her first, she had a profound moment.
"For three hours on Saturday morning in San Antonio all three of my lives finally came together," explained Anderson. " I wasn't one person with three lives, I was whole. As I sang, I fought, without much success, to swallow the tears that were desperate to overflow."
Stories like Cooperman's and Anderson's abounded after the event.
The Keynote speaker was Rabbi Joel Simonds, the founding executive director of the Jewish Center for Justice and the Associate Rabbi at University Synagogue in Los Angeles. Rabbi Simonds inspired Conference attendees with his thoughts on peace and justice.
"When we pursue justice as a community, we pursue a path of hope, compassion, and care," said Rabbi Simonds. "We go to sleep each night determined to create a brighter tomorrow for current and future generations."
Many of the 30 breakout sessions focused directly on the early childhood classroom.
Lindsay Astor Grant, a licensed pediatric occupational therapist in Los Angeles, provided insight on how physical design and layout of a classroom can impact a child's learning potential.
"A classroom with lots of bright colors and busy walls, while visually pleasing, can be over-stimulating," said Grant. "It is a good idea to make sure the wall behind you during circle time is not cluttered so that the students can focus their attention on you, the teacher, and not what is behind you."
Jessica Frank, a learning specialist at Temple Emanu-El's Early Childhood Education Center in Dallas, presented on creating a peaceful, inclusive classroom.
"It starts with building a relationship with the parents," said Frank. "This is done by listening first to understand their goals for their child."
Attendees also let their hair down, Texas style. A second-night field trip to Tejas Steakhouse and Saloon meant some good, ole' fashioned Texas Bar B Q and line dancing.
"I heard from so many attendees about the wonderful experiences they had," said April Schafer, Director of Early Childhood at University Synagogue in Los Angeles and ECE-RJ VP of Conferences and Biennials. "None of it could have been possible without the hard work of our Executive Director, Tricia Ginis, and the more than 25 members who were involved in putting together this conference."
---