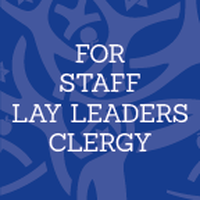 Ten Steps to Make Your Congregation Inclusive
In my work coaching synagogues toward increased inclusion for people of all abilities, I spend a lot of time exploring organizational change. One of the things professionals and lay leaders ask most often is some version of this: "How do we change the culture of our community to one where individual members recognize and value inclusion?"
Inclusion can seem overwhelming for a community that has not previously made accommodations or offered opportunities for individuals with disabilities. Organizational culture change is a complex process that demands a clear vision and a focused leadership team committed to create, anchor, and support change over time. In other words, it is anything but a "quick fix." Nevertheless, even small steps can have a tremendous impact. Start small, but start somewhere.
Ten Steps to Make Your Congregation More Inclusive:
1. Identify the key stakeholders.
Inclusion of people with disabilities is not a one-person job. While one person can light a spark, no one person can change the culture of a synagogue alone. Assemble a core group of professionals and lay people. Include someone with disabilities and/or the parent of a child with disabilities.
2. Recognize that inclusion is about changing a culture.
Culture change is a process. Recognize that you have embarked on a long-term endeavor and that the process itself can and will be as significant as the destination.
3. Articulate a Vision
While there are many tools to facilitate a visioning process, most synagogues already have a Vision or Mission Statement. Ensure that the synagogue's vision includes a statement of inclusion of people of all abilities.
4. Conduct a Self-Assessment
There are a number of great tools for self-assessment available online or from local Federations. UJA-Federation of New York offers the Synagogue Inclusion Inventory. Such tools are designed to help identify areas of strength and provide ideas for new areas of growth as you work to become more inclusive of people with disabilities.
5. Set Goals
This is an opportunity to dream. Make a list of everything you want to do in both the short-term and long-term. Do not place limits by discussing what may not be possible at this stage.
6. Identify "Low-Hanging Fruit"
Identify the "simple" changes that can be made. This may involve such things as adding signage, moving items to be more visible, or doing other things considered "easy" in your community. Initial success sets the stage to continue the forward momentum.
7. Prioritize Goals
Explore other goals from #5 above and discuss what is realistic and possible in the short-term and what must be tabled for a later point in time. This is most frequently the place where congregations get stuck. Ideally, choose 3-5 goals to act upon, but if you must choose only one to enable movement forward, do that.
8. Get Help
If one of your stakeholders is not a professional in the disability world, this is the time to explore bringing in a consultant. And if one of your stakeholders does not have a disability and/or a child with a disability, here is the place to find someone who can share that perspective. Your goals will help to determine if you should seek an architect, an educator, a lawyer, etc.
9. Share
Let the rest of the congregation know about your efforts. Changing a culture requires transparency and support; keeping your work a "secret" until a program or event is "ready" is a mistake. Inclusion is not about an isolated program, it is about relationships. Invite others into your conversations.
10. Reflect and repeat
Turn your goal into action, build in opportunities for assessment and reflection, and then do it all again.
Keep at it. Disability inclusion requires intentionality, dedication, and perseverance. Inclusion is not a person or a place or a program; inclusion is a mindset, a way of thinking, and it needs to be who we are as much as it is what we do. It can be hard work, but it is work that is important, meaningful, and satisfying.
Lisa Friedman is a widely recognized expert in Jewish Disability Inclusion. She is an Education Director at Temple Beth-El in Central New Jersey where she has developed and oversees an inclusive synagogue school. She is also the Project Manager of UJA-Federation of New York's Synagogue Inclusion Project. Lisa consults with congregations, schools, camps, and other organizations to guide them in the development of inclusive practices for staff, clergy, and families through dialogue, interactive workshops, and awareness training. Lisa is a sought after speaker on a wide variety of topics and blogs about disabilities and inclusion at Removing the Stumbling Block.
---