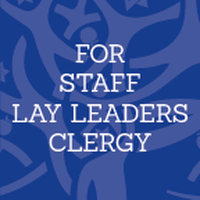 The morning began with the click of a prescribed link and an invitation to enter yet another virtual world. As I was given permission to enter, the screens opened one by one, and in tiny squares, I was treated to the sights and sounds of our amazing early childhood students and their phenomenal teachers. Depending on the setup, I saw their full expressions of joy in getting to see one another. Some remain masked, and some still home, finding the virtual portal as their sole connection to our early childhood offerings.
"Shabbat Shalom, Rabbi" is the feel-good moment for me that welcomes the time we are about to spend together – in song and in prayer. It is filled with joyful movement, fun story-telling and sharing, and a familiar review and participation in our weekly liturgy, either welcoming us to the week with Havdalah or having us embrace the Shabbat upon us.
Indeed, my moments of interaction these past 11 months with our littles have [for the most part] been relegated to screens, infused with technical glitches and the like. Yet, I believe there is so much more to offer at this critical time - moments in which clergy can and should be working to partner with our Early Childhood Directors and educators to both strengthen and uphold one of the major life forces of synagogue life.
Below, I offer a collaborative "Inventory of Opportunity". Perhaps this inventory can serve as a jumping-off point for partnerships with your own clergy:
Regular clergy check in/support with the Early Childhood Director. Do you have regular, scheduled check-ins with your Early Childhood Director or at least one member of your ECC leadership team? Are you aware of what is happening in the school – the accolades and challenges? How can you best support your educators at this time? How can you help them to continue to find joy in their role?
Periodic clergy check-in/engagement with Early Childhood faculty and staff. Given limited physical interaction, prioritize opportunities to engage your ECC faculty and staff. This can help to foster connection and care.
Spiritual/pastoral offerings for families. Many families are in need of support at this time but don't know where to turn. Actively offer (and promote) virtual coffees and pastoral sessions for families of early childhood students.
Provide mental health opportunities for families. In addition to pastoral guidance, families could be in need of mental health/therapeutic support. Avail yourselves of the skills and talents of congregants. Perhaps they can offer workshops, support groups, and/or referrals.
Regular clergy engagement with students (virtual and in-person, if possible). This is key, as students love to see and engage with their clergy.
Programmatic "pop-ups" that involve both students and families. From trivia events to sing-a-longs and special holiday programming, families feel nourished by all that the synagogue community has to offer them. It can feel overwhelming, even in the midst of the pandemic, for families with children in the ECC to engage with a mass of people. Brainstorm to provide ECE family-oriented experiences that spotlight your relationship with the ECC.
Share it. Build upon it. There is so much we can do together. And on a personal note: thank you for your tireless efforts and most sacred work in keeping our youngest ones and their families safe and happy in these uncertain times.
With gratitude and appreciation -
Rabbi Jason Nevarez, RJE
Senior Rabbi, Congregation Beth Israel
San Diego, CA
---