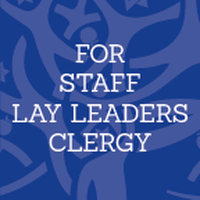 You heard from your Early Childhood Director about the program she just held. She told you 15 families attended; the program timing was spot on; the kids had fun; the parents were happy when they left, and you received no serious complaints.
Your Early Childhood Director feels good about the program, and said it was a success. But was it? What determines a successful event when gathering families with young children? Is it the number of registrations? The number of people who attend? The efficient and cost-effective way in which you run the program?
Measuring success is more than just answering quantitative questions. While these are important, there are other equally crucial questions that can't be ignored. We at the URJ suggest that it's time to rethink traditional measures of success.
Consider working with your Early Childhood Director to think about measuring a program's success by focusing on RMI: Relationships, Meaning, and Impact.
Relationships
How are you supporting families in building deep relationships with other people in the community who are in the same stage of life? How and when are you encouraging families to exchange contact information so they can follow up on their own? How does the program support a second connection? In what ways can you design follow up connection and community building? How are you collecting information about new, emerging relationships?
Meaning
How do you know if you are creating programs and experiences that respond to the needs and interests that will bring meaning to the families' lives at this moment? How might we find Jewish traditions and wisdom that speak to their moment, to their need at this stage? In what ways can you determine how families are finding meaning? How are you asking for reflective feedback from your participants? How are you showcasing their experiences to others?
Impact
How are the family engagement experiences we design and create connected to bringing more justice, compassion, and wholeness to the world? How are we bringing Reform Jewish values to our experiences? How are we supporting our families in contributing to making the world a better place? How are we determining impact?
Thinking deeply about relationships, meaning and impact doesn't suggest numbers and critical fiduciary responsibilities aren't important, but they shouldn't be the primary measures. To learn more about how the URJ is thinking about success, read this article from Amy Asin, URJ Vice President of Strengthening Congregations.
Julie Lambert, RJE , Associate Director, Congregational Innovation, Strengthening Congregations for the URJ
---