October 30, 2017
2:00 - 3:00 p.m. CDT
"Creating a Welcoming Environment"
Hosted by Shelly and Heidi Kutchin
Heidi Kutchin is currently the Pedagogy Specialist at Temple Emanu-El where she ensures pedagogy alignment (Reggio inspired) throughout the school and develops and supports teacher documentation. Heidi mentors educators in curriculum and environment. She has developed and organized multiple workshops and conferences. Heidi attended the International Study Group in Italy in 2017. Heidi has a bachelors in business from the University of Texas at Austin. She resides in Dallas with her husband Josh, and two sons.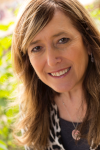 Shelly Sender has been the Early Childhood Education Director of Temple Emanu-El, Dallas for the past 11 years, and in the early childhood field for 34 years. She has a Master's Degree in early childhood disorders and education administration. Shelly has conducted workshops in classroom environments and has a passion for creating beautiful spaces for children. Shelly has been to the city of Reggio Emilia to explore the Reggio philosophy. Shelly has been married for 34 years and has 3 children, two sons and a daughter
---
Access to the Zoom Video Conferencing App used for Meet Up Conference Calls
To join this free online video-conference event, please follow the links in your registration email or join from your PC, Mac, Linux, iOS or Android: https://urj.zoom.us/j/7427432203 Or join by phone: +1 646 558 8656 (US Toll) or +1 408 638 0968 (US Toll) Meeting ID: 742 743 2203
*If you don't have audio/video on your computer, please call in AS WELL AS click on the link so you can view the presentation while listening/participating on the phone.