ECE-RJ invites you to Meet the Author
Marilyn Gootman
Friday, December 8, 12:15 – 2 p.m.
ECE-RJ Table at URJ Biennial, Vendor Hall (Kikar)
Marilyn E. Gootman, Ed.D., is an educational consultant who has advised parents, teachers and administrators throughout the country on successful strategies for raising and educating children. She has over 35 years of teaching experience, ranging from early childhood to the graduate school level, in both Jewish and general settings. She has written books for parents, teachers, teens and toddlers, including When a Friend Dies: A Book for Teens about Grieving and Healing (Free Spirit Publishing: 1995, 2005) and Thank You Trees (Kar-Ben: 2013), which The New York Times Book Review called a "charming celebration of Tu B'Shevat." Marilyn has become increasingly passionate about her work running the PJ Library Program at her temple, Congregation Children of Israel in Athens GA. The Athens PJ Library Program has blossomed into a powerful community for parents seeking authentic ways to weave Judaism into their family life. The experiences of those families, and of her own three children and six grandchildren, inspired Dr. Gootman to write her most recent book, The Joys and Oys of Parenting: Insight and Wisdom from the Jewish tradition, published by Behrman House.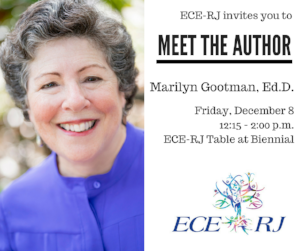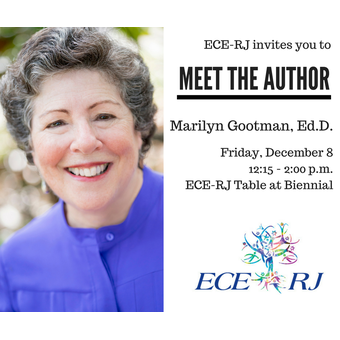 ECE-RJ Table at URJ Biennial, Vendor Hall (Kikar)