Cindy Terebush - Featured Biennial Booth Guest
December 7, 2017
10:15 - 11:30 a.m.
URJ Biennial in Boston, MA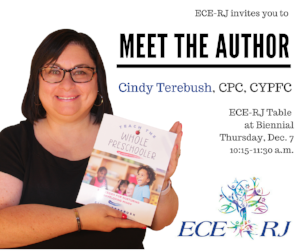 Visit the ECE-RJ Table at Biennial and meet Cindy Terebush, Early Childhood Consultant and Author of "Teach the Whole Preschooler: Strategies for Nurturing Developing Minds." Cindy will be available to sign your pre-purchased book and answer your questions on Thursday, December 7, 10:15-11:30.

To pre-order your book go to https://goo.gl/tEoE3T and use the promo code TWP2017, for 20% off and free shipping!