URJ Biennial Highlights, January 2018
By Shelly Sender
Temple Emanu-El
Dallas, Texas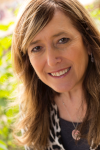 Last December, I had the pleasure of attending the 2017 Biennial conference of the Union for Reform Judaism in Boston, Massachusetts.  This was my 5th Biennial, each more special than the next. It was exhilarating and moving to see 5,000 -6,000 fellow Reform Jews learning, praying, singing, and even dancing together.  It is an experience every Reform Jew should strive for at least once in a lifetime.  From Wednesday through Sunday, continuous events ran from 7:30 a.m. (including a variety of morning worship services with diverse liturgies and music) until the wee hours past midnight, allowing attendees to spend time and network with colleagues and friends. 
I was very lucky to share the Biennial experience with forty-nine other Temple Emanu-El, Dallas members, including Rabbis, a Cantor, the president, staff, and lay leaders.  Temple's large contingency enabled the group to qualify for the privileged "Platinum" category, which included special near-the-front seats during morning and evening plenary events with Rabbi Rick Jacobs, Reverend Barber, Governor Charlie Baker, Senator Elizabeth Warren, Dr. Maria Hanna-Attisha, and our very own, Rabbi Stern, President of CCAR (who made me very proud).  The most joyful experience was just being together with fellow Temple members, Community of Practice partners, and the ECE-RJ community, where we were exposed to many colleagues and friends from across the Reform Jewish world.
Another more personal take-away of this Biennial is the reality that our ECE-RJ participants are deeply committed to the importance and the growth of our profession. The power of ECE-RJ's being a part of the larger URJ Biennial is invigorating and exciting.   Our presence was known!  There is no substitute for the power of community and for feeling that I am part of something so great!
The next URJ Biennial Convention will be Chicago Illinois, December 11-15, 2019.  I hope to share this incredible experience with more of you then!