A Message from Our President
November 2016
A Message from Jennie Rubin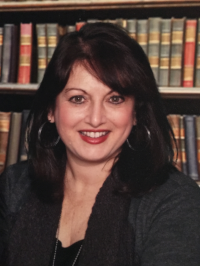 The school year is off and running. The High Holy Days are behind us. ECE-RJ has been moving and shaking all around the Reform movement, and we are thrilled to share with you what has been going on.
In August, the ECE-RJ board met, in person, to reflect, review, and plan the future of our amazing organization. Over the last 3 years, the organization streamlined its board structure, implemented a new dues policy, hired an executive director, and brought our technology piece in line with 21st century practice. The organization continues to grow and change to accommodate the needs and services required by our membership. We have added placement services, web training, resource accessibility, and a social media presence to ensure that information and support is obtainable, without losing the interpersonal relationships that embody the core of our mission. The board met to review and refocus our mission and to create an action plan to accomplish our goals. The plans are in motion, and we are seeing great participation and enthusiasm from those who are getting involved. It's an exciting time for our profession, and an exciting time for the Reform movement, as families with young children remains a priority, and the senior leadership at the URJ continues to support, and move our mission forward.
A Strategic Plan resulted from our midyear board meeting (see left).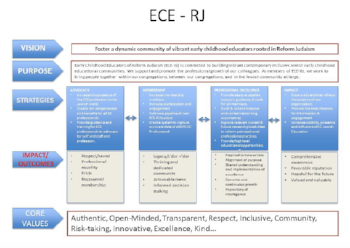 We identified 4 main areas that we feel embody the heart of soul of our organization - Impact, Advocacy, Membership, and Learning. By identifying the core values associated with our goals, we were able to identify what specifically required our focus and attention this year. I could not be prouder of the work that we did, and the highly effective leadership that currently exists on our board. But we are not done. This cannot be a board driven organization. Your voice, your passion, and your time are needed to help bring about change within our field. You are an expert, and we need your skills. Click here for a list of committees or contact Tricia Ginis to join a team that interests you.
Our presence is being requested on committees and teams that influence the direction of Reform Jewish practice throughout our institutions. We currently have members sitting on the Joint Commission for Worship, Music, and Religious Living; the Social Action Committee, and The URJ National board. We are working closely with Rabbi Jacobs, the Families with Young Children team, the audacious hospitality team, the strengthening our congregations team, and RPB to leverage the value of our expertise within the greater Jewish community, and to ensure that our teachers and directors are being compensated accordingly.
A few weeks ago, Tricia and I were invited to attend a convening of all the professional organizations and groups within the Reform movement. It was the first time all of the paid professionals and leaders from every organization were in one room. The meeting was about Gender pay inequity within the reform movement, and had been convened by the Women's Rabbinic network. It was a breakthrough meeting in many ways, but there were two highlights. The first was the overwhelming interest that many of the other organizations had in our organizational structure. Many of them are starting the process that ECE-RJ has just finished, in terms of restructuring, and they were extraordinarily impressed by how far ahead we are. The second was an exclamation that was made by Rabbi Rick Jacobs, and Rabbi Jonah Pesner, about reconvening the same group, at a later date, around the topic of the overall inequity of pay for most early childhood educators, who, to paraphrase Rabbi Pesner, are doing what is possibly the MOST important work in our movement. We look forward to making this happen before the next biennial. It's an exciting prospect to be able to discuss with the leadership of all the major organizations the ways in which their support can bring about real change in the educational opportunities, and compensation packages for our members. In a time where our early childhood centers are moving into full time care facilities, there is understanding that investments need to be made to secure and retain well trained staff.. We literally have the future in our hands, and knowing how important that is, we will effect positive change for our membership.
We are gearing up to see you all, in person, at our national conference in March. We will be unveiling the plans for the ECE-RJ trip to Israel that is scheduled for Feb 2018. We are employing social media to keep us connected during the conference, and providing incredible options for workshops and discussions that are beyond exceptional. We are also celebrating our former Executive Administrator, Elaine Gaidemak's exemplary service to the organization. I am truly looking forward to sharing it all with you. We are all brought together by the sacred work we do. I am humbled by the passion and dedication that is part of the daily routine that comes from being an Early Childhood Jewish educator. As we continue on this journey together, it is my hope that you will bring your gifts to the collective, through whatever means works for you. Thanks for your support, and for making this world a better place, through all you do, and all you are.
L 'shalom,
Jennie Rubin
President
Early Childhood Educators of Reform Judaism