"Walk the Walk: Engaging Families with Young Children", January 2018
Presenting about Engaging Families with Young Children at Biennial
Submitted by Carol Paster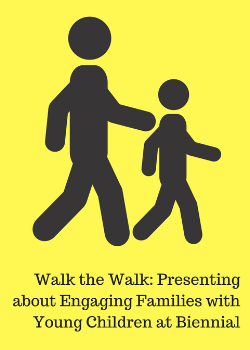 As Susie Wexler and I prepared for our Biennial presentation, entitled "Beyond the Welcome Mat:  How to Deeply Engage Families with Young Children," we realized that we had taken on a new challenge.  While we are both seasoned presenters at conferences (not that we do them as a professional career!), Biennial was another story for a number of reasons.  First, there was the potential for a large crowd as there is no pre-registration.  Second, our time-slot was right after lunch on Friday, which for many of us was the third full day of the conference.  People would be jet-lagged, have been up late networking or attending late night performances, have walked miles from their hotels to get to the workshop spaces, and would probably be on information overload by then.  (This MUST be an engaging presentation to literally keep people awake!)  Third, and perhaps most importantly, we had to remember that this conference was not just for early childhood educators – we would be presenting to lay leaders, clergy and program directors as well.
The two of us, mentored by the incredibly patient Nancy Bossov, needed to stay focused on the end result -- how can one say in an hour that which has taken a lifetime of experience to understand?  To this end, we did more than "talk the talk" – we "walked the walk" as well.  In our presentation, we talked about what it feels like to be welcomed in. We talked about what makes a welcoming space. We also made sure to create a welcoming space.  There was a greeter at the door, food options for gluten-free, dairy-free, and sugar-free diets.  We included some salty and some sweet, some chewy and some crunchy and explained that this is how you make people feel that you've gone the extra mile to take into account their individual needs. Pens and cards were available for those who wanted to take notes, and a PowerPoint was made for the visual learners.  We used two different approaches to explain best principles in early engagement, and the play between the two presenters allowed for different voice modulations and expression---to help everyone keep the energy up.
We are happy to share that the presentation was well-received.  Attendees asked thought-provoking questions that represented the diversity of the group, and we all had the chance to learn together.
Accompanying Resources:
Check out the slideshow that accompanied the Biennial Presentation, "Beyond the Welcome Mat:  How to Deeply Engage Families with Young Children."