2019 ECE-RJ Conference
January 16 - 20, 2019  San Antonio, TX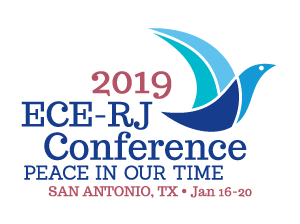 The ECE-RJ Conference is the premier event for those who lead, work, volunteer or have a strong interest in early childhood programs affiliated with a Jewish organization.
From across North America teachers, directors, lay-leaders,  congressional and organizational staff along with religious leaders are coming together to learn, share, network and grow. Please join us. 
This year's theme, Peace In Our Time, will provide attendees with the skills, knowledge, and understanding of not only integrating peace into early education programs and classrooms, but also within themselves (inner peace) and their community.
---
REGISTRATION QUESTIONS?  
Contact Tricia Ginis, Executive Director tginis@urj.org
CLICK HERE
---
Please click the links below for more details