Join ECE-RJ for the 2018 Israel Experience
Updates:
Enjoy learning along with our Israel Experience participants. Bloggers are posting travel tales, memorable moments and insights on the ECE-RJ blog page. 
You can also follow along on the ECE-RJ Facebook page.
Check out stories and photos on Facebook
For more information about the Special Guests, please click on the links below to read their full bios:

Shira Kline, AKA "ShirLaLa"
Supporter, ECE-RJ Member & Loyal Friend, Brooklyn, NY
Shira is an award winning performing artist recognized as a "revolutionary educator" and named one of the "new re-engineers of Jewish life."
On the road, Shira works with a diverse array of Jewish communities to enliven rituals, holiday celebrations, and love for Jewish life and prayer. The product of a modern rabbi and a modern dancer, she blends words, story and music to create a rich experience for children and adults alike. In addition to performing, Shira works with national organizations across the denominational spectrum facilitating professional development seminars on spirituality as well as early childhood music for clergy, educators, seminary students and lay leaders. Shira tours extensively performing for children of all ages in the United States, stages in Israel, England, Italy, Australia and New Zealand.  Her award winning Jewish kiddie rock albums along with her "Blog Sameach" are featured worldwide. Back home she is the Director of Worship and also Family Education for Lab/Shul, NYC. She is on the faculty of Hava Nashira and adjunct faculty for the HUC-JIR Debbie Friedman School for Sacred Music. 
The Basics: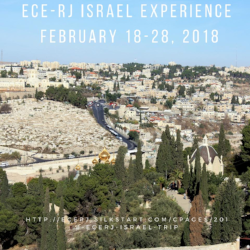 Don't miss this incredible opportunity to view Israel through the early childhood Jewish educator lens, with trusted, and esteemed colleagues. It will be the trip of a lifetime!
WHO: A diverse and dynamic delegation of colleagues, including directors, teachers, clergy, and specialists.
WHAT: A 10-day educational adventure, sponsored by ECE-RJ in partnership with Hebrew Union College-Jewish Institute of Religion School of Education with focus on applying concepts inherent in Israeli culture and values to our work with families with young children.
WHY: The opportunity to participate in meaningful, high-level exploration of the land, the people, and the educational landscape of Israel which will inform views and deepen personal connections to Israel. Early childhood and engagement professionals will be inspired to bring life-changing lessons back to their organizations, touching the lives of thousands of families with young children.
WHEN: February 18-28, 2018 with possibilities of extensions
WHERE: Cultural, historic, relevant sites around the country, including visits to high quality early childhood programs, meeting with and learning from premier early childhood educators. The itinerary is being designed by The Israel Experience along with a small group of early childhood colleagues, Dr. Lesley Litman (Director of the Executive M.A. Program in Jewish Education at HUC-JIR and iCenter consultant, and Shira Ackerman Simkovitch.
---
A Message for Registered Participants:
Shalom fellow travelers!
We are so excited that you are joining us for the ECE-RJ 2018 Israel Experience in February.
To prepare our hearts, souls, and minds for this opportunity to see Israel through the lens of an early childhood educator we need to:
• establish connections to each other 
• establish a common understanding of Israel past and present
• become familiar with the itinerary
Because we are fortunate to be a community of travelers from all across the U.S., we will convene virtual meetings via the Zoom platform. Zoom allows us to meet virtually with video conferencing. Please use the following link to join via your computer. Ideally we would love not only to see each of you but to share our screens when discussing things like the itinerary etc. If you do not have a camera/microphone set up on your laptop, please use the link so that you can see everyone and the shared screens AND call in using the phone number included. This will allow you to see, hear and be a part of the conversation.

            Join from PC, Mac, Linux, iOS or Android: https://urj.zoom.us/j/7427432203 Or join by phone: +1 669 900 6833 (US Toll) or +1 408 638 0968 (US Toll)
                       Meeting ID: 742 743 2203
Following are the scheduled dates and the designated time is 4pm EST.  Please adjust the start time for your specific time zone.
October 4th
November 8th
December 13th
January 10th
You will be sent an invitation via email with a link for these dates.  Please accept the zoom invitation for all dates. We understand that schedules are always double booked!  However, committing to doing this preparation work before departure will have a great impact on our trip.  Coming together as a learning group with strong relationships and intentions will create a deep and powerful experience in Eretz Yisrael.
With love,
ECE-RJ  Israel Steering Committee
Fees and Payment Information

Each attendee has received an invoice via email with a link to pay online via PayPal or you may choose to mail a check to:

         ECE-RJ
         21001 N. Tatum Blvd. 
         Suite 1630-909
         Phoenix, AZ 85050

Trip Fees: $3200 per person double occupancy (Additional $675 for single supplement)

Final Payment due October 15, 2017
*If special payment arrangements must be made, please contact Tricia Ginis, executivedirector@ecerj.org or 480-620-4053
WhatsApp

Our group will be using WhatsApp to communicate before, during and after our trip to Israel. This is a great way for us to share flight and other travel information, talk through packing tips, and stay in touch while travelling to/from and around Israel. 
 

What is WhatsApp?

WhatsApp Messenger is a FREE messaging app available for iPhone and other smartphones. WhatsApp uses your phone's internet connection (4G/3G/2G/EDGE or WiFi, as available) to let you message and call friends and family. It offers FREE calls for friends and family with WhatsApp Calling even when travelling to another country. WhatsApp also allows Group Chat/messaging so we can easily stay in touch before, during and after our trip to Israel. There are NO INTERNATIONAL CHARGES when messaging or calling. 


What do you need to do?

Download WhatApp from the App Store on your smartphone by Wednesday August 16th. We will set up a group and invite you to the conversation. Once you have been invited, please join in on the conversation! 
---
Travel Information
Israel Experience participants are responsible for their own flights to/from Israel. We ask that all participants arrive close to 1:00 pm on Sunday, February 18th and depart after 11:00 pm Wednesday, February 28th.

For those of you extending your trip, please indicate your plans on the Travel Information Form. Once we have a sense of flight arrivals for the group we will let everyone know the meeting time/place on February 18th.

Please follow this LINK to the Participant Intake Form. You will need your passport information to complete this form. If you are applying for a new passport or renewing your passport, please indicate this on the form. If you are not sure of the information yet, please answer 'Not Yet'.

When you make your travel arrangements and receive your passport (those renewing and applying for the first time), please send the info directly to Tricia Ginis executivedirector@ecerj.org and she will update the participant form information for you.

**IF YOUR PASSPORT IS EXPIRING WITHIN 6 MONTHS OF TRAVEL IT MUST BE RENEWED. The sooner you apply and/or renew, the better.
QUESTIONS??
Shelly Sender, VP of Learning  ssender@tedallas.org 
Heidi Baker, Chair, Israel Steering Committee  hbaker@bethavodah.org
Tricia Ginis, Executive Director  executivedirector@ecerj.org