Join ECE-RJ at the URJ Biennial in Boston
2017 URJ Biennial 

Boston, MA
December 6-10, 2017
Join ECE-RJ at the URJ Biennial 2017!

The URJ Biennial is the largest Jewish gathering in North America, bringing together 5,000 Reform leaders, including lay leaders, professionals, clergy, and youth leaders representing 1.5 million North American Reform Jews.  With over 140 sessions, you will have opportunities learn, pray, share ideas, network, and celebrate.  Be a part of the ECE-RJ presence at Biennial!  For more information and to register visit Biennial 2017.

Questions:
Please contact Fern Katz, VP of Conferences and Biennials
fkatz@chicagosinai.org
 
---
December 1, 2017
It's URJ Biennial time! 
Dear ECE-RJ Friends,
Are you getting ready for biennial? 
Have you planned your learning sessions?
Have you signed up to help at the ECE-RJ booth?
Have you RSVP'd for Dine-A-Rounds?
Have you downloaded the Biennial App?
 
We have some last minute information for you!
Attached you will find: Your help is needed—if you have not signed up yet, please do so here.

Biennial 2017 is a wonderful opportunity to learn and connect with each other, our colleagues in the URJ and lay leaders.   So please—make a new friend (or three), stretch your mind and work your brain, celebrate, wear comfortable shoes for walking through the convention center and vendor hall, and be sure to spend time at the ECE-RJ booth—Table #6.

Fern Katz
ECE-RJ VP of Conferences and Biennials
---
Let Us Know You'll Be Joining Us!
It's not too late to let us know you'll be in Boston for Biennial. Please share your contact information and we'll send along invites and updates on all of the exciting ECE-RJ activities at the 2017 URJ Biennial. 
---
Can't wait to see you in Boston!
Dear Friends and Colleagues,
 
The URJ Biennial is coming up soon and I am looking forward to learning together, working together, and having fun together. Biennial is a wonderful opportunity to connect with others in ECE-RJ and URJ and to help strengthen ECE-RJ.

There are three ways that you can be involved and connect with others:
 

1.     Help out at our table!  The ECE-RJ table in the Vendor Hall (Kikar) will be the place to gather and meet old and new friends.  We aim to attract both lay and professional leaders to stop by for general information, book signings and activities.  We need everyone's help—and it is a great way to show off our profession! Please sign up to help using this LINK.
2.     Join us for social activities! We will be meeting for breakfast, dine-a-rounds, and happy hour.  Check out the social activities, and sign up for dine a-rounds and happy hour.  We have reservations, but need to know how many people will be attending.  All meals and drinks are at the participants expense. Sign up HERE.
3.     Attend workshops!  There are so many to choose from.  We have highlighted a few that may be of interest in the areas of early childhood education and families with young children.  Of course you should go to whatever you like, but this list might help you narrow down some choices. Workshops may be added at the last minute and there may be more to choose from when you get to biennial. 
 
I know that many of us are representing ECE-RJ and our congregations and will need to share our time, however, biennial is a wonderful way to connect the two!  Please join us in the Kikar and help us show all of the URJ participants how we can help congregations and schools!
 
See you in Boston!
 
Fern Katz
ECE-RJ VP of Conferences and Biennials
---
Of Special Note...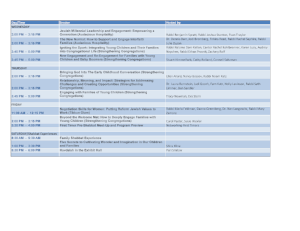 There are a couple of gatherings just for First-Timers:
Wednesday 12:30 - 1:30 - First Timer and Early Bird Networking
Friday 3:30 - 4:00 First Timer Pre-Shabbat Meet-up and Program Preview

There will also be Small Congregations Office Hours, where you can come and network with others, talk about the sessions you've been to and how to make them work in a small congregation and maybe just to meet and greet others from congregations like yours. (Held at URJ Central in the Exhibition Hall)

Small Congregations Office Hours:
Wednesday: 5:30-6:30pm
Thursday: 10:00-11:00am & 5:30 - 6:30pm
Friday: 10:00 - 11:00am
Sunday: 10:30-11:30am

All of these are listed in the Schedule 
---
Meet the Authors
Featured ECE-RJ Table Guests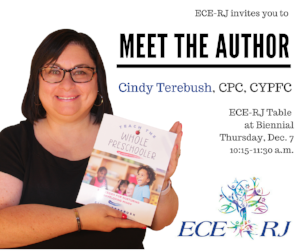 Thursday, December 7, 10:15 – 11:30 a.m.
ECE-RJ Table at URJ Biennial, Vendor Hall, (Kikar) #6
Visit the ECE-RJ Table at Biennial and meet Cindy Terebush, Early Childhood Consultant and Author of "Teach the Whole Preschooler: Strategies for Nurturing Developing Minds." Cindy will be available to sign pre-purchased books and answer your questions at the ECE-RJ booth during the URJ Biennial on Thursday, December 7, 10:15-11:30.  To pre-order your book go to https://goo.gl/tEoE3T and use the promo code TWP2017, for 20% off and free shipping!
---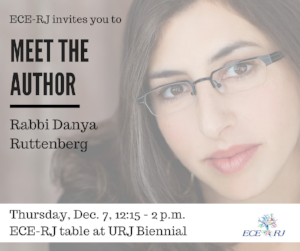 Thursday, December 7, 12:15 – 2:00 p.m.
ECE-RJ Table at URJ Biennial, Vendor Hall, (Kikar) #6
Stop by the ECE-RJ Table at on Thursday, December 7, 12:15 – 2:00 p.m. and meet Rabbi Danya Ruttenberg , author of Nurture the Wow: Finding Spirituality in the Frustration, Boredom, Tears, Poop, Desperation, Wonder, and Radical Amazement of Parenting. Rabbi Ruttenberg is a National Jewish Book Award finalist and author of a PJ Library Parents' Choice selection. She has been named by Newsweek as one of ten "rabbis to watch," and the Forward one of the top 50 most influential women rabbis, and serves as Rabbi-in-Residence at Avodah.
Rabbi Ruttenberg will be happy to answer questions and to sign books (books will be available for purchase at the ECE-RJ table).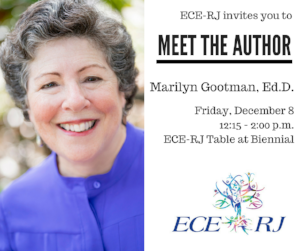 ---
Friday, December 8, 12:15 – 2 p.m.
ECE-RJ Table at URJ Biennial, Vendor Hall, (Kikar) #6
Marilyn E. Gootman, Ed.D., is an educational consultant who has advised parents, teachers and administrators throughout the country on successful strategies for raising and educating children. She has over 35 years of teaching experience, ranging from early childhood to the graduate school level, in both Jewish and general settings. She has written books for parents, teachers, teens and toddlers, including When a Friend Dies: A Book for Teens about Grieving and Healing (Free Spirit Publishing: 1995, 2005) and Thank You Trees (Kar-Ben: 2013), which The New York Times Book Review called a "charming celebration of Tu B'Shevat." Marilyn has become increasingly passionate about her work running the PJ Library Program at her temple, Congregation Children of Israel in Athens GA.  The Athens PJ Library Program has blossomed into a powerful community for parents seeking authentic ways to weave Judaism into their family life. The experiences of those families, and of her own three children and six grandchildren, inspired Dr. Gootman to write her most recent book, The Joys and Oys of Parenting:  Insight and Wisdom from the Jewish tradition, published by Behrman House. 
---
Meet and Greet
The ECE-RJ table is a convenient meeting spot for groups of new friends or old. Have a little free time between sessions? The ECE-RJ table (#6) in Vendors Hall (Kikar) will almost always be manned by a colleague or friend from another school. Come meet other educators and enjoy the ECE-RJ camaraderie.